Frequently asked questions
General Waterpark Questions
Do you have a severe weather policy?
---
Better than that, we have a Weather Guarantee​...if we have to suspend operations because of severe weather there will be a suspension announcement, and we will make "Hospitality" return tickets available to all who present their ticket stub at one of the cashier ticket windows, have all their belongings together, and then leave during the suspension...so that you can come back another day. The Hospitality tickets will be valid for up to 30 days from date of issue for a comparable return visit. Hospitality return tickets can not be issued after you have left...be sure to request them on the way out, during the weather suspension.
---
Do you have lifeguards monitoring the rides?
---
Absolutely, everywhere there is water we have lifeguards & all of our lifeguards are Red Cross Certified. Remember...if your kids are in the water, you should be too! Please watch the safety video below...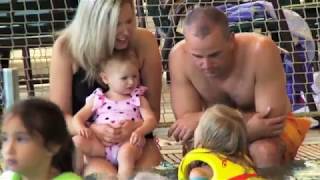 ---
What size life jackets do you have available?
---
We can fit from infants to XL...based on availability and a first-come first-serve basis.
All life jacket are FREE to use.
If your child is under 50lb. lifejackets are available for FREE use through our Guest Services Gazebo...you must leave an ID.
​Please note...no lifejackets can be used on the "DRAGON" speed slides.
---
Can I bring in my own Lifejacket?
---
Yes you can...it must be US Coast Guard approved.
---
Can I bring in a cooler?
---
Yes you can...no glass or anything that could break, no alcohol, no knives or anything sharp, and nothing that is HOT or heats or plugs in to electric.. We are the Chicagoland's ONLY cooler friendly waterpark...#1 with families!
---
Do you have restrictions on the rides?
---
1) You have to be at least 46" tall to ride the DRAGON or the KRAKEN ride. 2) On the tube rides, a child has to be big enough to ride in one of the tube holes alone, can not ride on lap. 3) On body slides, people are not allowed to ride "together" or holding each other. 4) On the CannonBowl rides...there's a manufacturer weight limit of 400 lbs. for double double tube/250 lbs. single tube.
---
Can I bring in a stroller?
---
Yes, we do allow strollers and even kid wagons if they are used only to transport kids.
While in the park strollers and wagons need to be within reach of one of your group at all times, for safety purposes.
---
Can I grill inside the waterpark?
---
We do not allow grilling or any type of heating for the safety of our patrons, most of which are barefoot, on any waterpark or parking lot grounds.
---
What is your charge for parking?
---
Nothing, Zip, Zero, Naughta...FREE!
---
What time zone are you in?
---
Central Time Zone
---
Photos & Video in or above the waterpark?
---
Yes, you certainly can take photos & video in the waterpark of your family and friends, in fact we encourage it and hope you'll post them to our Facebook page http://www.facebook.com/deepriverwaterpark @deepriverwaterpark However, we do not allow any use of drones on waterpark property or any portable equipment on or in any of our rides...this includes GoPro, cell phones, tablets or anything else...due to safety, security and guest privacy reasons & manufacturers requirements.
---
Are there any rules for nursing?
---
Nursing Mothers are able to nurse any where they feel comfortable.
---
Do you rent towels?
---
No we do not...you need to bring your own or you can purchase one in the US30 Surf Shop.
---
At what ages do children need to be supervised by an adult in the waterpark?
---
All children under the age of 14 need to be accompanied by an adult (18+). This is an Indiana State Law...Pool Code 410 IAC 6-2-.1-36.
---
What forms of payment do your accept?
---
Cash or Credit Card (VISA, MasterCard, Discover, or American Express), Debit Cards are accepted as credit... to use the card as debit, you will have to use our ATM first.
---
Can little ones ride with adults?
---
Yes, on tube slides kids must ride in their own "tube hole"...on the rivers & wavepool they can ride in an adults lap...all at the adults discretion.
---
What is the depth of the water?
---
Splash pool at slide bottoms- 3 to 4 feet River Rides- 3 feet Wave Pool- 0 to 6 feet at the end Paddles PlayZone- 0 to 18"
---
Are floaties allowed...goggles?
---
We do not allow "floaties" or the swim suits that have a tube sewn in to them, to be used for safety purposes...they just do not help and can get in the way.
We do allow all US Coast Guard Approved life jackets.
Also for safety reasons goggles are not allowed on the slides.
---
Does my infant have to wear swim pants?
---
Yes, if they normally wear a diaper. Swim Pants are available in theUS30 Surf Shop at Deep River Waterpark or purchase before coming.
---
Are there any shaded areas?
---
Yes,on a first-come space available basis...arrive early! ...or a better idea, rent a private Cabana for the day... click here.
---
Do I have to wear swimwear?
---
For your enjoyment and safety, swimwear is required.
---
How about "swim shirts"?
---
Many people ask about wearing a swim shirt, which you can do on all the rides, but it has to be a swim shirt that is manufactured as a swim shirt and uses the special material they use, which fits skin tight. All other shirts are not allowed..

---
Can women wear shorts on the rides?
---
You can wear shorts if they are swimwear shorts...no denim, cotton, etc.
---
If I am pregnant, can I ride the rides?
---
We would suggest for you not to ride the slides or any of the attractions...but check with your Doctor first.
---
Can my infant ride in my lap in a tube?
---
es and No...a 6mo. old can ride in your lap on any of the tube rides you only float in like the river rides or wavepool...nobody can ride in a lap on any of the action tube rides like the STORM or tube slides...they have to ride ahead in a double tube and that is up to your discretion.
---
Can I wear surf shoes or flip flops?
---
You can wear surf shoes or flip flops everywhere but on the slides...on the slides you can carry them down.
This is a very good idea, especially on warm ☀️ days when everything get hot, including the walkways.
---
Are pets allowed?
---
We do not allow pets of any type in the waterpark and we have no kennels to store your pet in...pets should be left at home. The exception to this, is if the animal is a service animal.
---
My husband and I do not swim, can we come in?
---
Yes you can, but regular admission fees apply.
---
My child is very small...can I bring in a playpen?
---
Yes you can, but you must take all responsibility and have someone there all of the time.
---
Can I bring in my own chairs and possibly even a tent or umbrella?
---
Sorry, due to safety and insurance requirements we can not allow tents or umbrellas...but we can allow normal sized chairs.
---
Do you have wheelchairs available?
---
We do not...please feel free to bring your chair into the waterpark.
---
Do you allow mono fins "mermaid fins"?
---
We do not...they can be very dangerous
---
---
Relating to the Admissions and Rentals...
Can you leave the park, go to your car and return?
---
Yes, as long as you have your hand stamped and have your admission ticket stub
---
When are you open?
---
Deep River Waterpark opens the Friday before Memorial Day weekend and closes Labor Day. During the operating period the park is open daily 10:00am to 6:00pm...9:30pm on Tubin' Tuesdays. Rides start closing down 15 minutes prior to park closing. We are closed Monday - Friday the 2 weeks proceeding Labor Day Weekend...weekends only at that point.. To view all operating days, hours, and pricing click here
---
I want to save money...what do I do?
---
We're glad you asked! There are many ways to save at Deep River Waterpark... • Tubin' Tuesday evenings are open to the public and run from early June through mid-August from 5pm - 9:30pm...the great part is that rates are deeply reduced... click here for all rate info. • Groups...make advance reservations for 15 or more people and you'll pay a deeply reduced rate... click here for all info. • Buy a season pass...Season passes allow admission during normal operating hours, all Tubin' Tuesdays, and discounts in the US 30 Surf Shop, locker rentals and many other ways. Click here for more info. • Watch the Coupons/Specials page...from time to time we have discount offers available here... bookmark this page and check back often. Want to be the first to know about special offers...sign up for our eNewsletter on our home page.
---
Do you offer Birthday Parties?
---
Do we offer Birthday Parties! We're the Indiana/Illinois Birthday HQ! Click this link to find out all of the packages we offer. Note that advance reservations and payment is required.
---
Do you offer Lodging or Camping packages?
---
We sure do...check out all our Floatin', Splashin', Lodgin' & Campin' packages from our partners at this link.
---
Do you rent double tubes?
---
Sorry, we only rent single tubes...double tubes are available on a first-come basis on the rides that allow them.
---
---
Relating to group sales...
How far in advance do you have to make a reservation?
---
To qualify for discount group rates you must have 15 or more and make your reservation at least 24 hours in advance... if space is available. Reservation are taken on a first-come basis and numbers are limited, so call as early as you can.
Click here for all rate info.
---
How do we pay?
---
If you are coming as a group at our lowest rate, the entire group must arrive at the same time and one person pays for the entire group. If you can't arrive at the same time you'll be on our Recognition Day or Pre-Purchased pass program where you'll still receive a discount rate, but not as low as if you all arrived at the same time. All payments are due upon arrival, unless arrangements are made in advance.
---
Are you ever open for private parties?
---
YES! Wednesday through Sunday evenings Deep River reopens at 6:30pm for private parties. This is a great way for companies & organizations to enjoy the park...all by themselves. If you're interested, call early, every year all possible dates fill up. You can have a party, under the sun, during the day in early September...call for details or click here.
---
---
Relating to food and beverage...
What kind of options are in the park?
---
If you are hungry, you've come to the right place! From Grinders Dogs & Deli to Chompy's Pizza Place.... or try Milo's Ice Cream Shop or Dippin' Dots to cool off...for more info click here. Hungry for a burger, nachos, or corn dogs?...give Surf Side Cafe a try. Prices are typical of fast food establishments.
---
What's available for groups?
---
Group catering is our specialty! We can provide a catered meal in a private area for your group...or get you a meal on the run... click here to download the complete menu.
---
Regarding food allergies...
---
Please assume that everything we serve could have been in contact with what you or your children are allergic to, either at the factory or at the waterpark. Please feel free to bring in your own food...no glass or anything that could break, alcohol, or anything that is sharp, hot or needs to be heated. Grilling is not permitted on park property.
---
---
Relating to employment...
How do I apply for a job?
---
You can apply on-line right here! Then someone from Deep River Waterpark will review your application and call you in for an interview on an as-needed basis.
---
---
Relating to Ice Skating
What size ice skates do you have?
---
We have skates from size 9J to 14
---
Where can I find more info on skating?
---
---
---